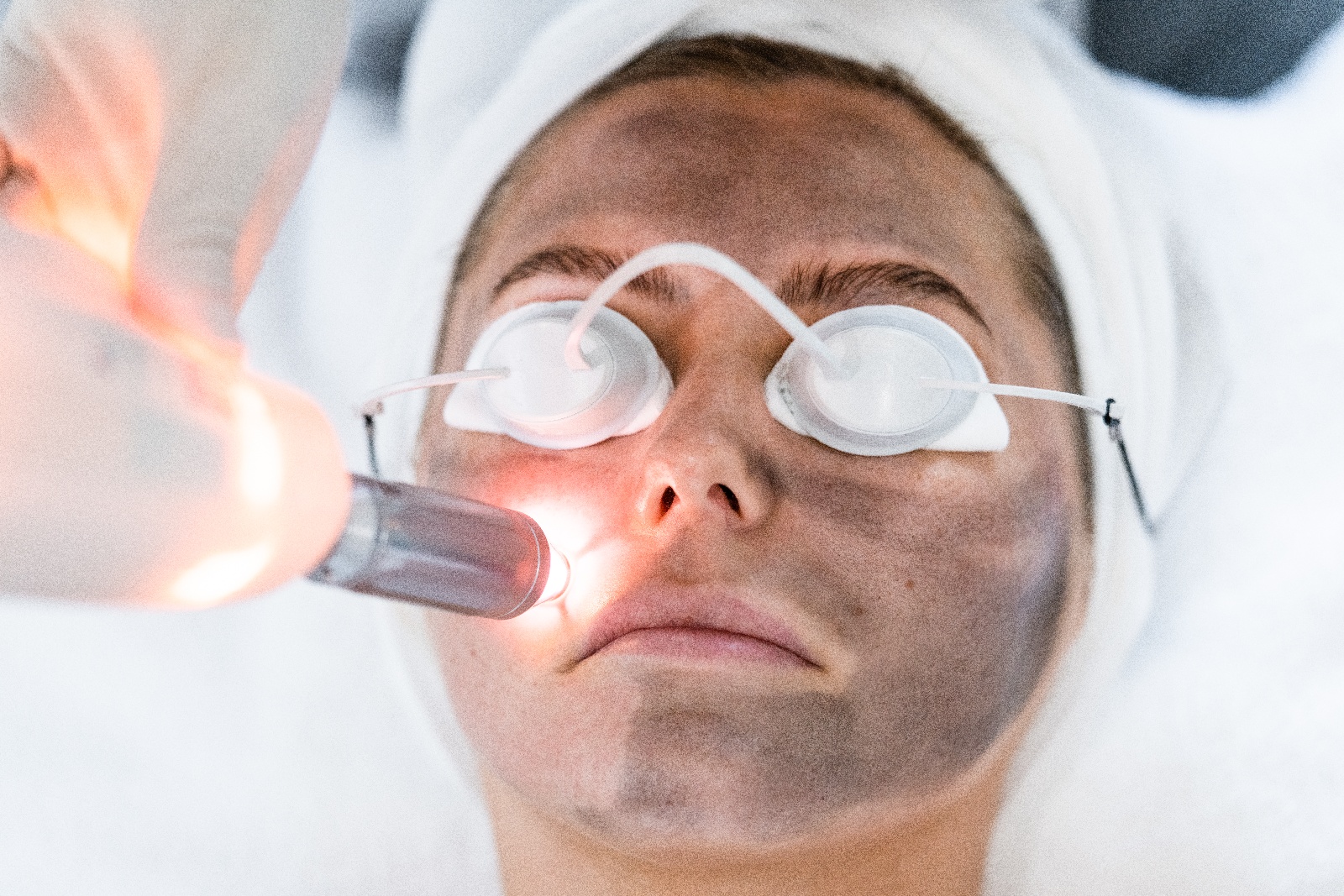 Instant Glow and Brighter Skin

ClearLift Carbon Laser Facial uses the power of a carbon mask and dual-light therapy to cleanse, exfoliate and rejuvenate skin.
Popularly known as "porcelain peel", "red carpet peel", "china doll peel", or "dark crystal peel", the Carbon Laser Facial is a favorite of many Hollywood celebrities like Angelina Jolie, the Kardashians, Jennifer Aniston and more.
Carbon laser facial is the most effective treatment to treat enlarged and clogged pores. Safe for all skin types, this 60-minute treatment is virtually painless with no redness or downtime and no topical anesthetic required.
How ClearLift became Hollywood's go-to treatment
Ivory Aesthetic's Carbon Laser Treatment uses a specialized FDA-approved technology to give you the face of the movie stars. ClearLift Laser is a hard-working treatment that aims at unclogging pores and brightening the skin, giving an instant glow to the face in just 60-mins.
ClearLift Laser is able to work wonders on the skin like no other device because of its advanced non-invasive and non-ablative approach. The high-powered device maximizes results by providing different power levels, short pulse duration of only 7 nano sec and multiple different-sized applicators for precise and deep skin penetration.
The laser treatment maximizes results by working deep beneath the skin's surface in a targeted and controlled manner to stimulate collagen production without damaging the outer skin. ClearLift's innovative and cutting-edge technology effectively treats the delicate skin around the eyes, mouth, neck and chest. All stages of healing and skin repair occur under the intact epidermis, leaving your skin looking evening-ready in an instant.
How does the treatment work?

Step 1: Skin Cleanse and Enzyme Exfoliation
Skin is cleansed and dead skin cells are removed with a papaya and pineapple fruit extract exfoliant.

Step 2: Light Extractions
Manual light extractions to remove blackheads and whiteheads.
Step 3: Carbon Cream Mask

A natural carbon mask is applied to the face and left to dry. The dark-colored, natural carbon absorbs oil, impurities and dead skin cells deep within the pores. This natural face mask pulls out all the toxins from deep within the skin's surface.

Step 4: ClearLift Laser
The ClearLift laser's deep wavelength energy is absorbed in melanin and the dark pigment of the carbon mask, working in a two-fold manner. The combined therapy lifts impurities while also resurfacing the skin and stimulating collagen production, resulting in the diminishing of fine lines.

Step 5: Face Peel and Mask

Application of a tailor-made advanced face peel and neutralizing face mask suited to your skin type.

Benefits of

ClearLift Laser Facial Treatment
Exfoliates dead skin cells

Removes toxins
Shrinks pore size

Deep-cleanses pores



Increases collagen production

Diminishes the appearance of fine lines



This impactful treatment does not require a pre-treatment anesthetic. Safe for all skin types, the procedure is only for 60 minutes and is virtually painless with no redness and downtime.

For best results, we recommend 2-4 treatments at intervals of 2-3 weeks
What does the ClearLift Carbon Laser Facial do?

After a carbon face mask is applied, the carbon particles are absorbed within the skin. The laser penetrates deep within the skin to destroy not only the carbon particles, but also any oil, dead skin cells, impurities and bacteria found on and within the skin. The laser's strong heat tightens collagen while also stimulating collagen production, resulting in more brighter-looking skin.

Who should consider a ClearLift Carbon Laser Facial?

If you are looking for an instant glow in 60-mins, then this treatment is the best choice for you as it helps with collagen production and enhancing the glow on your face with no downtime.

Does this facial help with enlarged and congested pores?

Yes, this carbon laser treatment uses the combination of a carbon face mask and the ClearLift laser to clear your pores from deep within and to tighten enlarged pores, minimizing their visibility.

What can I expect at the clinic?

First your skin will be cleansed and exfoliated and then you will have a light manual extraction of blackheads and whiteheads. A natural carbon mask is then applied and left to dry, absorbing any impurities in the skin. Next step is the ClearLift laser; you will feel a warm sensation during the laser procedure as the treatment targets deep layers of the skin while leaving the surface layer undamaged. After this, a neutralizing face peel and face mask will be applied.
Anesthetic numbing cream is not required for this procedure as it is virtually painless. The total procedure time is 60 minutes and there is no redness or downtime. After this treatment - you can continue your normal daily routine as soon as you walk out the door!

Under what circumstances can I NOT undergo this treatment?
We advise you not to go for this treatment if you are pregnant or breastfeeding, suffering from severe skin disease or allergy, or have had recent sun exposure or fake tan on your skin, as it puts pigmentation on the skin's surface. Having been to a sunbed recently for a tan or taking specific medication may cause the skin to react, especially in the case of Roaccutane, which we would not be able to treat for at least 6 months following the last dose taken. Also if you are using any acid-based products like Glycolic and Salicylic as well as Retinol, you must stop it at least 1 – 2 weeks before each treatment.
Laser / IPL treatments are not suitable when you have active infections or inflammations, viral/fungal/bacterial disease, active cold sores, open lacerations, or abrasions in the treatment area. Risks may include a change in skin pigmentation, changes to skin texture, bruising, or burns. Be sure to consult with a dermatologist before taking up the treatment.
Before any treatment can be planned, you will be required to undergo a thorough consultation to assess your skin type and evaluate your medical history and any possible contra-indications to ensure that you are a suitable candidate for the treatment. We will also perform a patch test before commencing any procedure.
Is there anything I should do before the treatment?
Yes, avoid the use of Retinol for 1 week prior to your appointment and make sure you use sunscreen daily. You will also need to avoid the use of aspirin or other blood thinners, or specific medicines (for example, vitamins) and avoid direct sun tanning for one week prior to the treatment.
What are my do's and don'ts post-treatment?
1. Avoid exercising for at least 12 hours
2. Avoid heat treatments (radiofrequency, laser, or others) for at least seven days
3. Avoid prolonged exposure to UV for at least 28 days
4. Wear high-SPF sunscreen to protect your skin
5. Treat your skin gently - moisturize daily. It's normal to see some flaking or experience dryness for a few days
6. Use sunscreen regularly with at least SPF 30+
7. No products with retinol for at least five days
8. Do not exfoliate or use any abrasive or invasive skin treatments for at least one week
9. If you have oily skin, use products designed to combat acne to maintain optimum results
10. Use products containing collagen supplements, or follow a collagen-boosting diet if you have photoaged skin or fine lines
Take advantage of our special offer!

60-mins ClearLift Carbon Laser Facial for just AED 999